YObykes: Leading Electric Scooter in India!
Since past few years, there has been a drastic rise in the fuel prices and that was the time when having a vehicle was a novelty. In this hustle and bustle lifestyle, having a vehicle has become a basic need like house, food, and clothes. On the other side of it, global warming has also become a major concern for world leaders. There is a dire need for an affordable advanced technology which can help in contributing towards a pollution-free environment. All around the world, Electric Vehicles have stood out to be the most viable option. YObykes offers exclusive battery operated scooters and leads the electric scooter industry with the best sales.
Electrotherm was the first company in India in 2006 to introduce "Electric two-wheeler" with reliability and the best technology under the brand name of YObykes. YObykes do not require any fossil fuel and offers the most Economical, Convenient and Safe personal mobility. Today, YObykes has more than 1 lakh satisfied customers and has cemented its place as the largest selling and most trusted Electric Vehicles Manufacturer in India.
Made in India
Spare Parts Easily Available
RTO Approved
(ARAI/I-CAT approved)

One Year Warranty Support
Overdrive Award
Vehicle Insurance
Finance Tie-up
(at sole discretion of the financer)

Largest Pan India
Service Network

"A two-wheeler is a necessity these days for every housewife for multiple reasons. But looking at petrol prices it becomes difficult for everyone to buy a two-wheeler; YObykes is a smart and effective solution for the same."
"My dad gifted me YO ELECTRON after I cleared my board exams. It is the best gift I have ever received. My daily travel routine has become swifter and smoother."
"As a retired person I don't wish to be dependent on any of family member for my travel. YObykes are very convenient and easy to ride. I take it everywhere I go."
"I have to go to several places everyday for office work. Riding a cycle gets very tiring, hence I suggested YObykes to my boss and he got it for me. He said it is cost-effective and eco-friendly."
"My husband gifted me YO EXL on our anniversary. It has made my life easier. I take it everywhere – to the market, to the temple, to drop kids to school."
"I have a very busy schedule. Everyday I go to school, tuition and music class. All the travelling becomes easy with YObykes."
How YObykes (Electric two-wheeler) is different from conventional Petrol Two-wheeler?
YObykes is a battery-operated, economical, zero pollution and easy to ride two-wheeler. YObykes is based on electrical technology where the BLDC motor replaces the conventional engine. YObykes can be charged as easily as a mobile phone wherever electric power connection is available. Once fully charged YObykes can travel up to 75kms* in one charge depending on the load, speed & road condition.
Below is the comparison between major components of YObykes (EV's) Vs. Petrol Two-wheeler
KEY FACTORS
PETROL VEHICLE
YOBYKES
Power + Drive
Engine & Gear Box
BLDC Motor & Controllers
Fuel
Petrol + Oil
Battery + Electricity
Start Mode
Kick Start / Self Start
Key Start (NO hassle)
License Requirement
Required
Few Models do not require Driving License
Mileage

(Varies from Model to Model) #

45 to 60 km / litre

60 to 100 km / charge

Running Costs per km#

Very High (Rs 1.50/km)

Low (Rs 0.17 paisa/km or more)

Expenses on Top Oil#

Rs. 250 at each 2000km
Nil (No additional expenses)

Maintenance Cost#

High

Lower compared to Petrol scooter as YObykes do not have any wear or tear items i.e. Gearbox, oil/air filters, Clutch plates etc.

Weight Carrying Capacity
130 kg
75 kg Low Speed Models &

130 kg High Speed Models

Riding Mode Selector
Not available
Available in High Speed Models
Environment Friendly
No
Yes (Zero Tail Pipe Emission)
How YObykes (EV's) run?
On the application of start/ignition key, the controller gets activated. It sends electronic signal to all other electric components like accelerator and gives signal to controllers. The controller senses the signal & supplies power proportionally to the motor and the electric vehicle moves.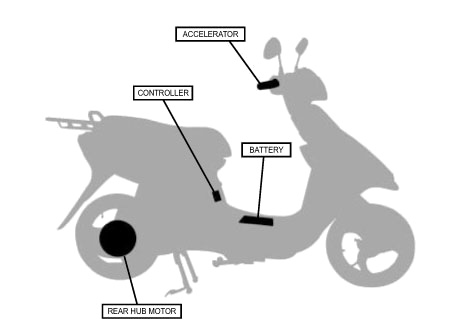 What is Motor?
YObykes are fitted with Brushless Hub motor, this is a permanent magnet DC motor with brushes replaced by rotor position sensors and semiconductor switches. As this motor is placed directly in the wheel, smooth torque is easily obtained. There is no wear & tear and no frictional losses. Efficiency is also more compared to brush motor. Motors are rated in terms of voltage and output in Watts.
What is Battery?
Battery pack is the 'fuel pack' for YObykes. YObykes are provided with Dip discharge VRLA (Valve Regulated Lead Acid) batteries. These are sealed batteries which don't require any water to be filled up. No maintenance is required in these batteries. Battery pack are rated in volts (V) (typically in multiplies i.e. 12V) and amp-hours (AH) of energy. An Ampere-hour (AH) rating of battery determines the storage capacity of chare.
| | |
| --- | --- |
| Model | Battery Specifications |
| YO Electron ER | 48V, 24 Ah |
| YO Xplor | 48V, 24 Ah |
| YO Spark | 48V, 33 Ah |
| YO EXL | 48V, 48 Ah [24 Ah * 2 sets] |
What is Controller?
The Electric motor controller, the 'brain' of YObykes (EV's) provides electric power to the motor based on inputs from the accelerator. Controllers are rated in voltage and maximum current (amps.). A controller with a higher amp rating can deliver more power to the motor. A high quality controller will allow for smooth and precise control over acceleration and avoid overloading of the motor.
What is Accelerator?
The accelerator of YObykes sends an electronic signal to the electronic controller allowing the ride to precisely and smoothly change and control the speed.
What is Battery Charger?
Chargers are rated in current carrying capacity (Ah). The charger converts an AC supply to DC, in order to store power in the battery. This charger can be used with any normal domestic AC plug point. This makes charging of battery pack easy and convenient. Moreover the charger provided with YObykes is designed to avoid overcharging.
What is the charging time?
If the battery is completely discharged, it takes around 6-8 hours to completely charge it.
When should I charge the batteries?
All YObykes have a 'battery charge' indicator in the dashboard. The batteries should be charged according to the indication of the charge left. As soon as indicator shows nearer to low-charge indication, batteries must be charged. As a precaution – don't expose the charger to rain or moisture, switch on the main current only after plugging both the sides of the charger, check and ensure that the small cooling fan of the charger is working during the charging.
Will it affect the batteries if charger is ON even after charging is over?
The chargers provided with all YObykes are specially designed 'smart' chargers. They do not allow batteries to get overcharged. Thus, even if the charger remains ON after the charging is over, it will not affect the battery life.
What is the effect on the batteries if the battery pack is left for days without charge?
Leaving the batteries in discharged condition for a long period will affect the battery life. It is advisable to recharge batteries regularly. Batteries can be left uncharged to a period of around 30 days. When leaving for outstation, recharge the batteries to full. On return, recharge the batteries before driving the vehicle.
Are the batteries detachable?
Batteries are heavy & are not recommended to be taken out.
It is safe to leave battery pack in the vehicle itself while parking?
Yes, battery packs have been provided with lock facility.
Can I use any other batteries for YObykes?
Use of any other batteries is not advisable. YObykes have specially designed batteries. The company will not be responsible for the performance/damage and warranty claims of YObykes, in case other batteries are used.
Is YObykes safe in rainy season?
YObykes can be used in rainy season without any problem. The batteries, motor, controller, wiring etc. are water proof and tested extensively. However care should be taken to avoid getting submerged in water.
Can we wash electric vehicles?
Yes, you can easily wash these vehicles. However, pressurized water is not recommended. Before starting the vehicle, after wash, the vehicle should be in a dry condition.
Are spare parts for YObykes easily available?
Yes, spare parts are easily available with all the authorized dealers. With pan India network of sales, service and spares, YObykes ensure 100% service and spare support to the customers.